Plant Hire in Derbyshire
Covering Derby, Ashbourne, Alfreton, Matlock, Chesterfield & the Surrounding Area
AE Faulks Ltd is the ideal place for anyone looking for construction plant hire in Derby. We provide an extensive range of construction plant and vehicles; suitable for all sizes and nature of jobs. To make selection easier for you, we have made a comprehensive lists of all the plant and vehicles we have available to hire in Derby: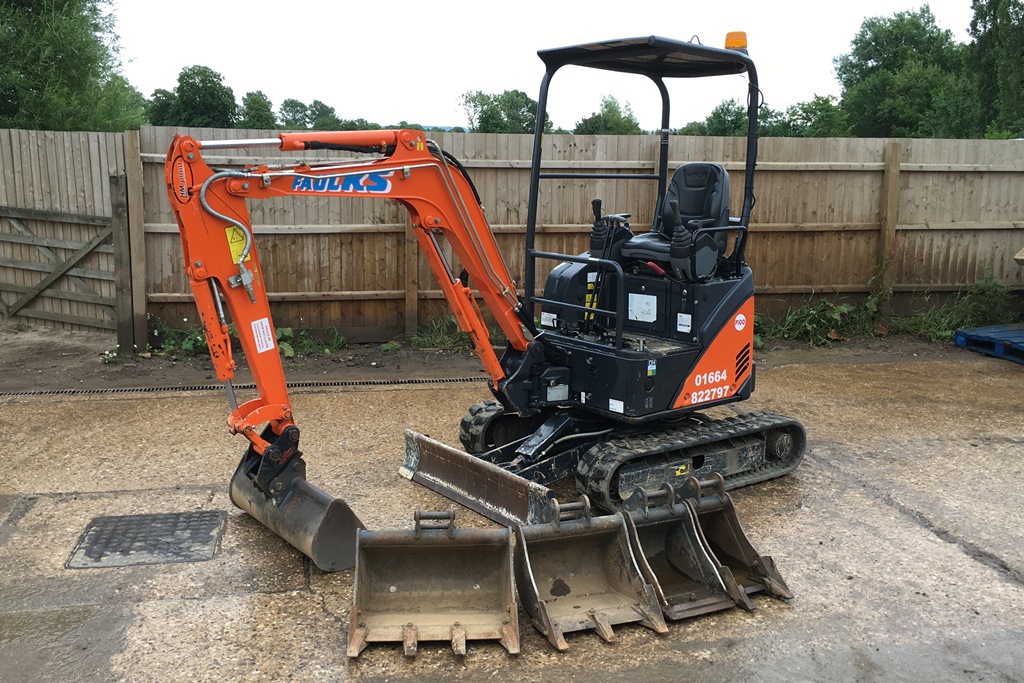 Micro, Mini & Midi Diggers
If you require a tracked excavator but work on a small site, why not hire one of AE Faulks Ltd Micro, Mini or Midi Diggers? Our Micro, Mini & Midi ranges are some of the best on the market today, as they are incredibly compact; starting at just 1t with the Micro and up to 6t with the Midi. As well as this, these machines are also praised for their easy access in restricted areas, using their hydraulically adjustable track gauge (on 1t and 1.5t diggers). If you would like to read more about our micro, minin and midi digger range, please see our Micro, Mini & Midi page.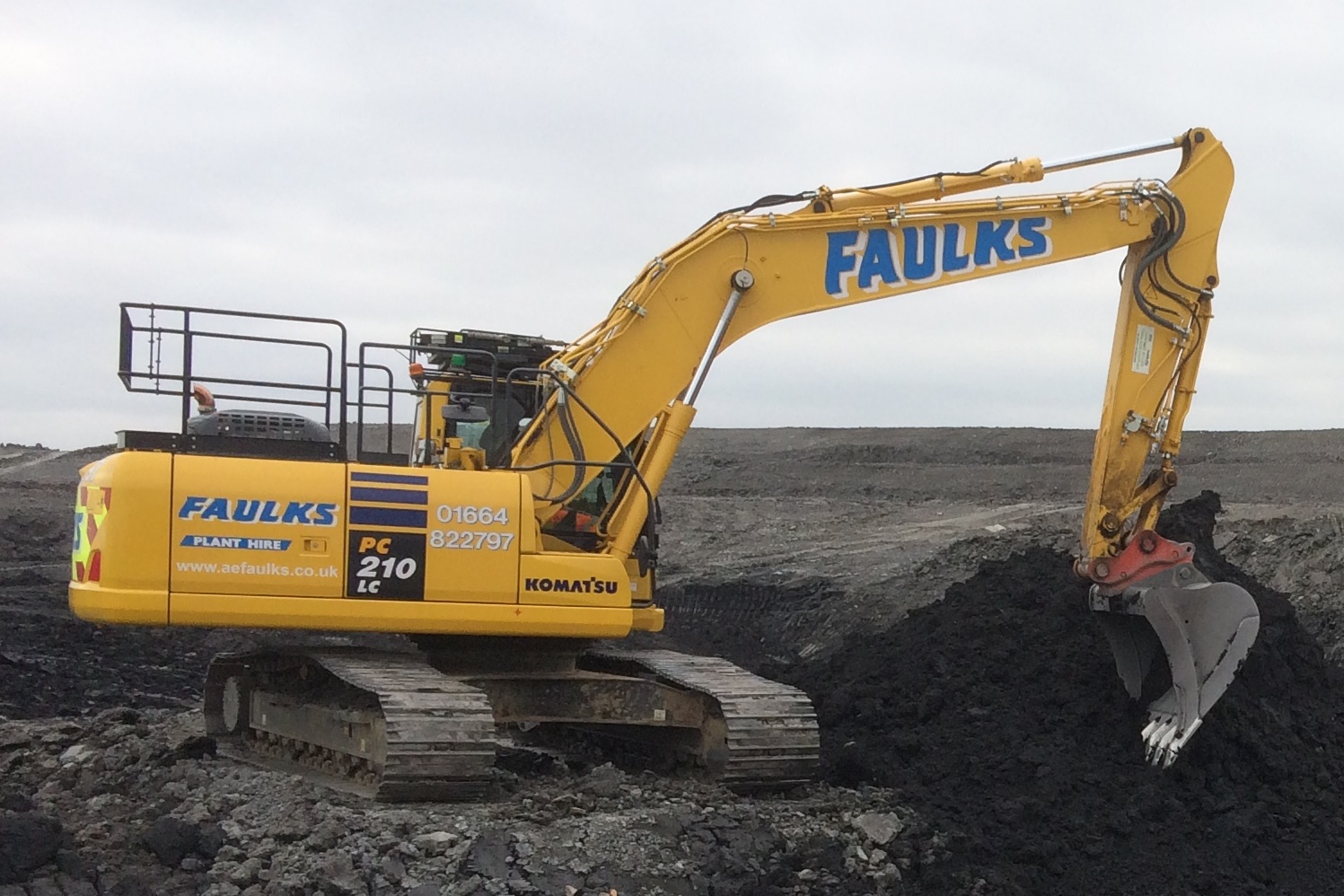 Tracked Excavators
AE Faulks Ltd offer a wide array of tacked excavators for plant hire in Derby – either provided with an operator or on self-drive hire.  Our range starts at 8t and continues through to 25t.  Our size variations allow you to choose a unit that is tailored to your individual needs. For example, our smallest 8t tracked excavator is fantastic for use in confined worksites, as it's compact, reliable and boasts incredible breakout force.  At the other end of our range, we have the 25t tracked excavator, which provides you with high lifting, good stability on uneven surfaces, excellent breakout force and has amazing fuel economy.  Please view our tracked excavators for further information regarding our services.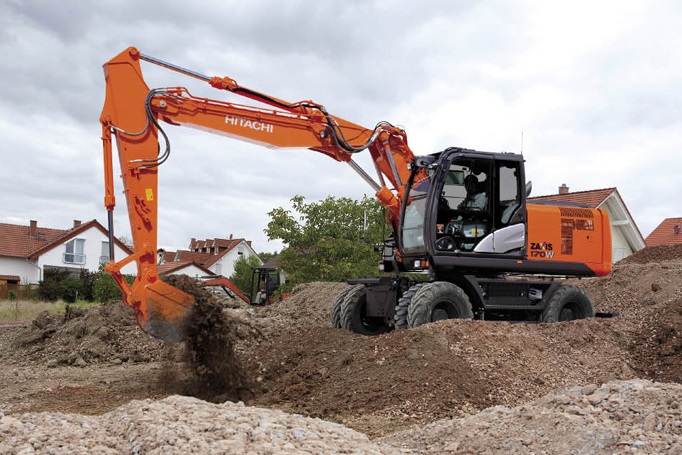 Wheeled Excavators
For manoeuvrability and flexibility why not choose our wheeled excavators we have available for hire on an operated or self-drive basis? These Rubber Ducks come in sizes from 10t to 19t.  These excavators are incredibly robust machines that are highly praised by all who have hired these machines in the past, excelling in performance, productivity and reliability. The larger wheeled excavators are fitted with stabilisers and blade for extra stability when working on uneven surfaces or lifting heavy loads.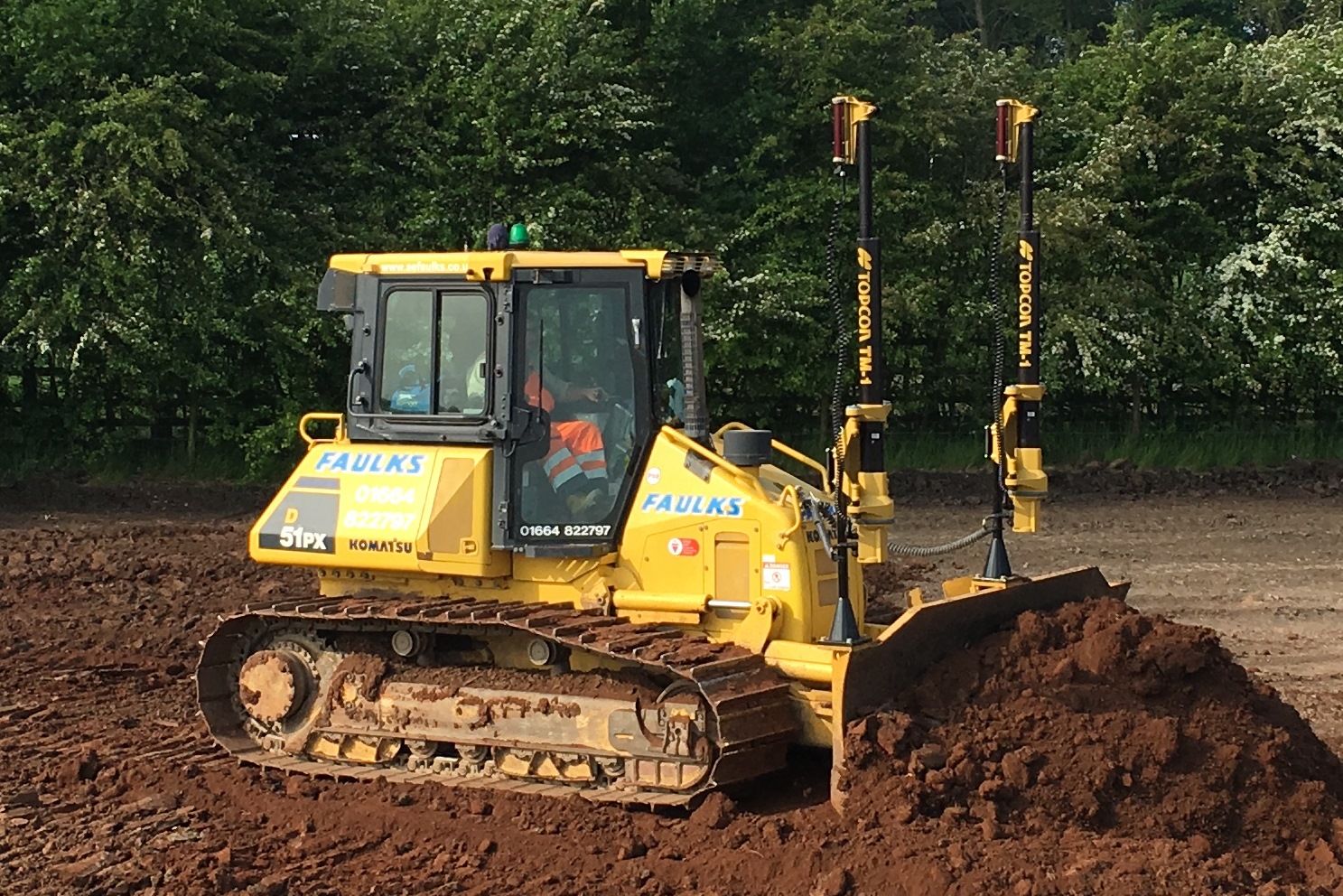 Dozers
For both reliable and durable dozers, AE Faulks Ltd has the best to offer you. The KOMATSU D51PX LGP is brilliant for all of your shaping and trimming needs. This dozer comes with the added benefit of being able to be fitted with either 2D or 3D automatic levelling equipment for two dimensional and more complex three dimensional grade work.  For more demanding workloads we can provide the KOMATSU D61PX LGP, which matches up to everything the KOMATSU D51PX LGP has but with more power. This dozer is excellent for tough and varied working conditions. Its low ground pressure undercarriage, increased track contact area and reduced ground pressure makes it possible for this dozer to operate effortlessly on soft ground. Both dozers come fitted with a 6-way blade for advanced shaping and trimming applications. See our dozers page for further information.
Site Dumpers
For an ideally matched partner to our Micro, Mini & Midi excavator collection, we are proud to be able to offer you a range of site dumpers. These brilliantly compact designs allow for moving large quantities around more restricted sites. Ranging from our micro size up to 9t, you can be sure that these site dumpers are the perfect option for your job.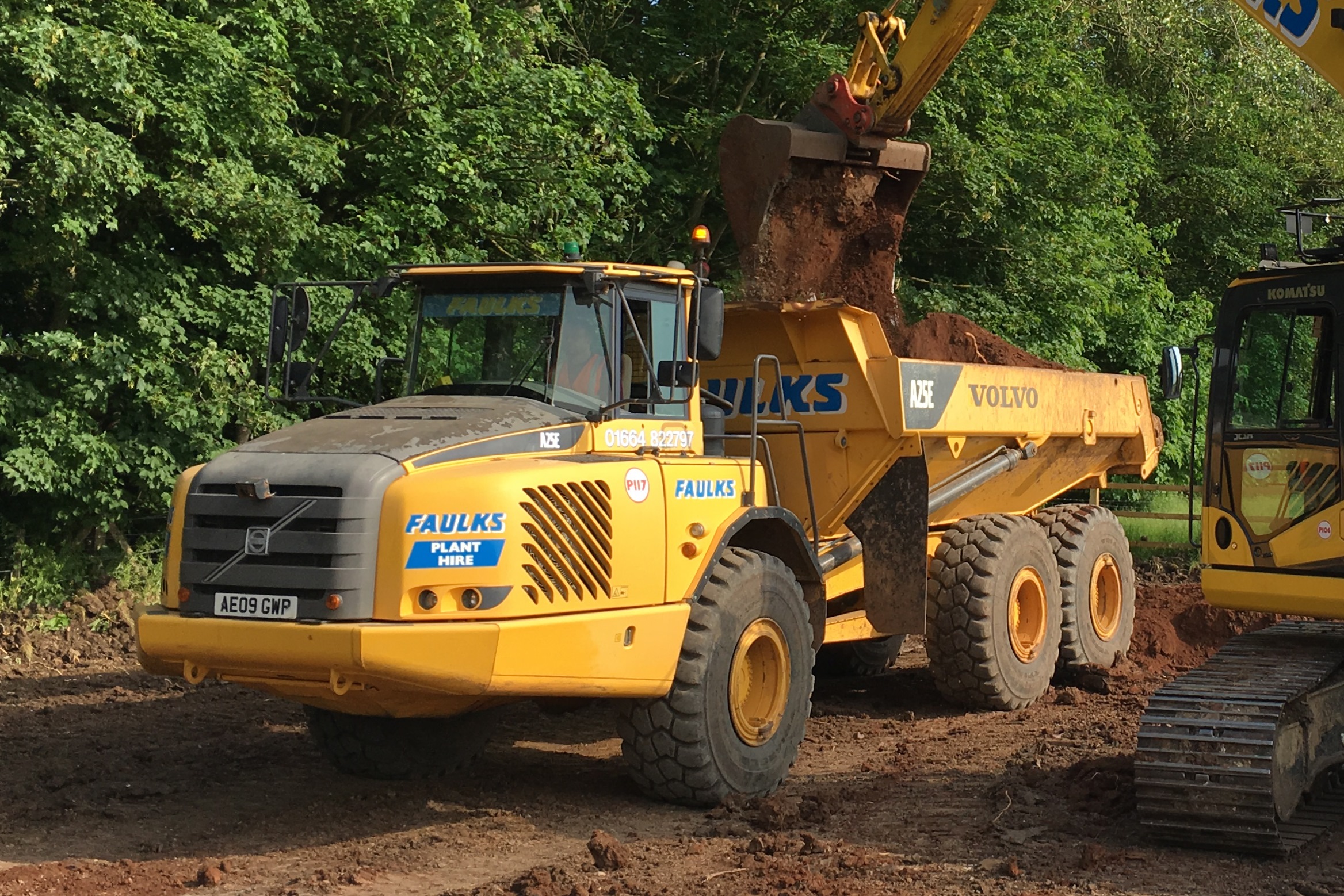 Dumptrucks
The Volvo A25 is a highly reliable articulated dumptruck that works efficiently even in extreme working conditions.  Boasting a 24t payload capacity the Volvo A25 is capable of travel speeds of up to 53 km/h. This is your ideal haulage partner that can quickly and effectively move soils and aggregates around site.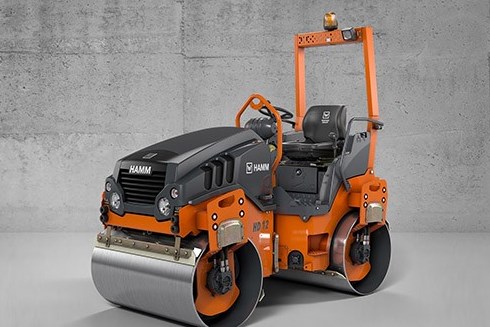 Compaction Equipment
AE Faulks Ltd currently stocks a choice of two compaction rollers  for hire in Derby. The first is the Bomag BW80AD-2; it houses compact twin drums for a perfect finish every time on smaller earthworks, aggregates and asphalt jobs.  Alternatively the Bomag BW120AD-3, which is fitted with much larger twin drums for compaction work of larger areas such as car parks, cycle tracks, landscape jobs, construction sites, road repairs and maintenance.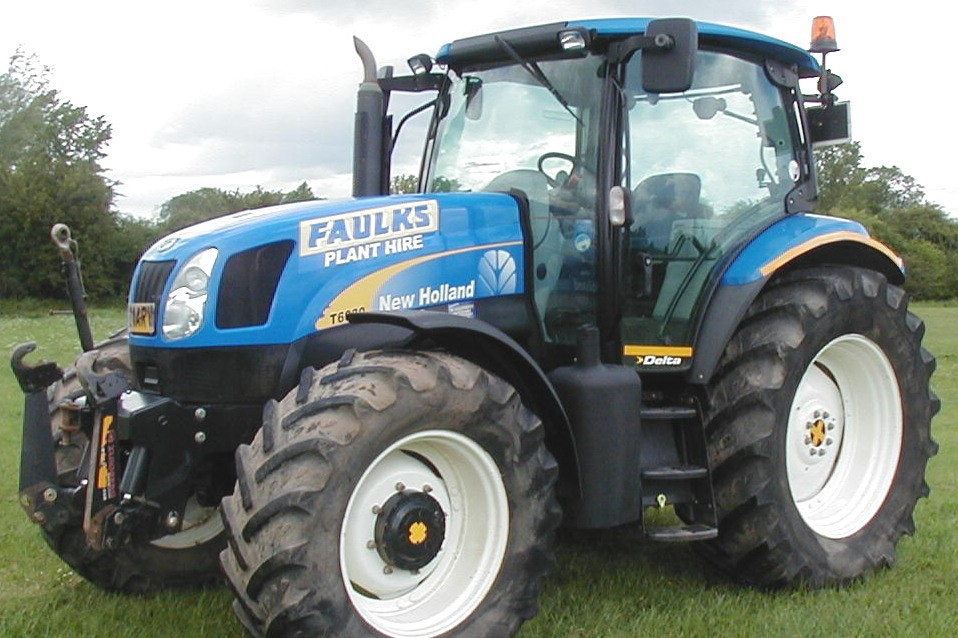 Agricultural Tractors
We currently have two New Holland agricultural tractors for you to choose from. The New Holland 6020 is the smallest of the two, providing you with high manoeuvrability and a fantastic power to weight ratio; perfect for any work you may have that requires high torque. Our largest tractor, the New Holland T7 200, provides incredible torque for heavy machinery usage. Both agricultural tractors are road legal and can be provided with a wide array of towed or mounted attachments for a variety of site uses you may have.
Contact Us Today
If you have any questions regarding our plant hire availability in Derby, please contact us now. Or alternatively, if you're interested in hiring from us today, don't hesitate to fill in our quick and simple form for an online quotation.