When it comes to construction and using plant and equipment, on-site safety is incredibly important. The construction industry can be a hazardous place to work; based on the number of work-related deaths it's currently the third most dangerous industry to work in within the UK.  From 2017 to 2018, there were a total of 38 fatal injuries to construction workers in the UK and six fatalities to members of the public.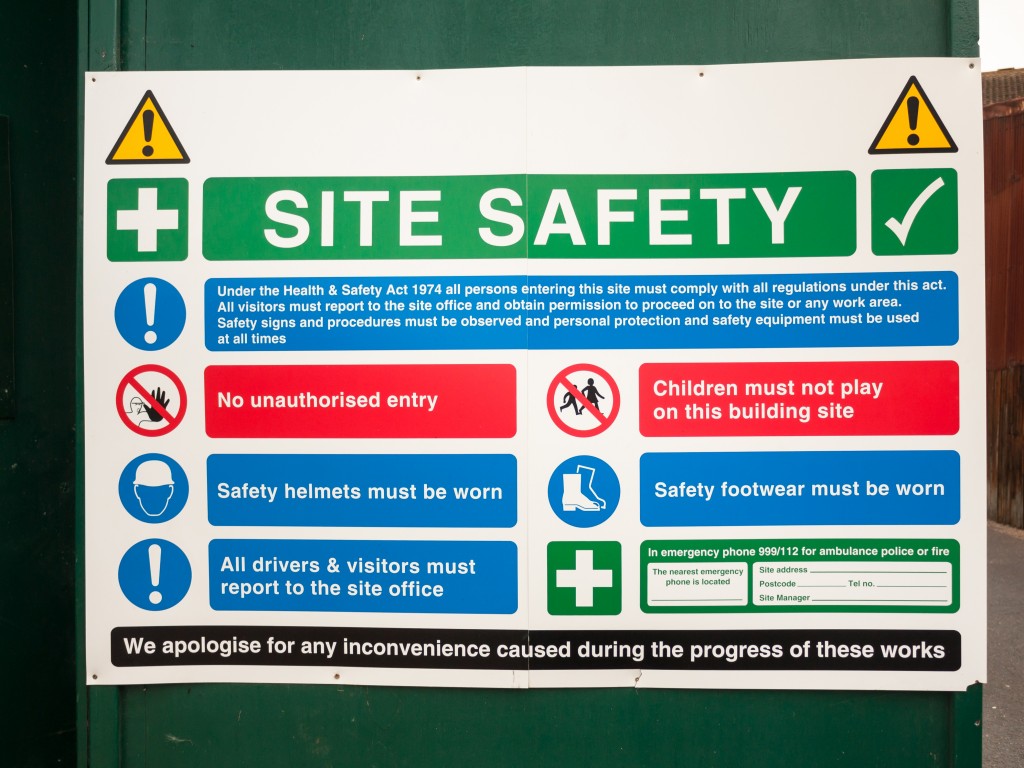 So, as a construction worker or site manager, it's paramount that you observe a high level of safety standards in all aspects of on-site work, especially when working with plant and equipment. Here's a breakdown of the best practices for on-site safety, as well as a look at how the plant you can hire from AE Faulks is designed with safety in mind.
Safety Training
Your construction workers should already be skilled and competent in their work and know safety processes before entering the construction site. However, safety practices should be reiterated and updated accordingly, and the staff kept trained and aware of the latest safety practices.
Site inductions, training videos, workshops and toolbox talks are helpful tools to get your team up to speed with on-site safety.  Additionally, make sure you're vigilant for workers not fully observing safety standards, and ensure that these problems are flagged with that employee, and more safety training is given to avoid problems.
 Site Access and Boundaries
There needs to be safe access onto and around the site for people and vehicles. Vehicles need to be kept clear of any pedestrians, particularly around site entrances, which can be done with separate doors or gates to create segregation. Plan carefully so vehicles can be kept clear of pedestrians at loading/unloading areas, parking and manoeuvring places.
Construction sites should always be very visibly signed and fenced off from members of the public for their safety, not to mention protect the site from vandalism and theft.  On sites where construction will be ongoing alongside other work, such as in an operating factory, you should agree on who has control of each area. Fences, barriers or permits may be needed to keep people away from hazards. A system needs to be in place to ensure precautions are held in place during working hours, and that protection and security is put in place before the site closes for the weekend or night-time.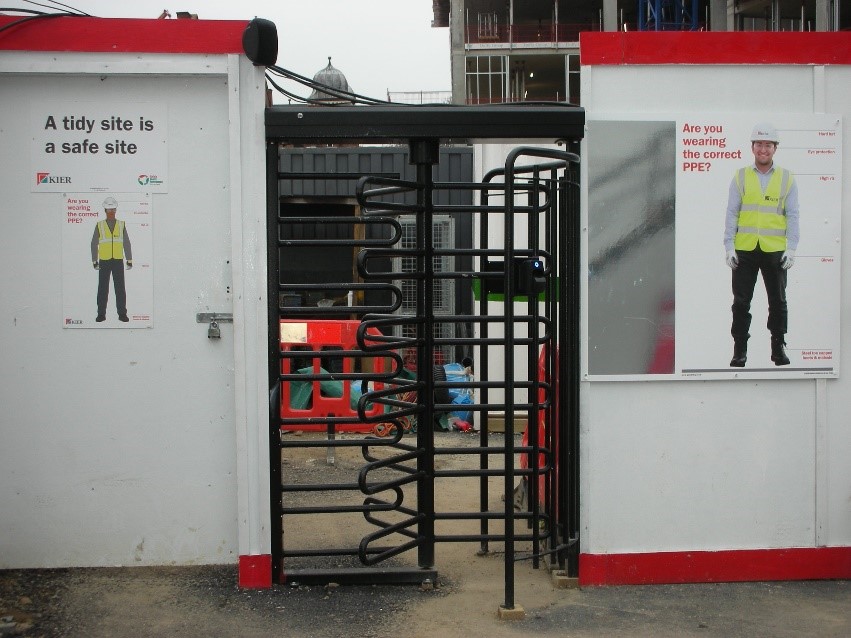 Site Vehicle Safety
Construction workers can be killed on construction sites by moving vehicles or even vehicles overturning, and many more are injured this way.  A safety plan for proper use of vehicles, plant and equipment is needed to ensure accidents are prevented.
Design the site traffic layout with the idea of minimising the amount of distance vehicles need to travel. When removing spoil, try to reduce the need to take it off-site by attempting to reuse it close to where it was excavated.
Try to limit the number of vehicles on-site by providing car parking for workers and visitors away from the work area. Utilise barriers to control the entry into the work area and plan the location of the goods receiving area carefully so that the vehicle does not have to travel through the site.
Set appropriate speed limits and ensure your workers stick to these by using clear signage. Reversing vehicles are a significant hazard, so try to plan your site layout to avoid the need for vehicles to travel in reverse if possible.  Where roadways are narrow, you may want to consider implementing a one-way system to help prevent accidents. Turning circles can be used to prevent vehicles needing to reverse, but these should be fenced off, excluded from all pedestrians and kept free of obstructions.
In cases where it is not possible to completely exclude pedestrians, you should ensure that the drivers of any vehicles have sufficient direct vision behind the vehicle when reversing, or preferably the vehicle is fitted with sufficient reversing alarms and/or CCTV etc.
Selecting the correct type of vehicle, plant and equipment for the job will also ensure that it is performed more safely.  The size of the vehicle should be chosen carefully to avoid overloading or having difficulty manoeuvring too large vehicles around the site.  Select the type of plant carefully, tracked excavators, for example, have better stability on slopes and soft ground than wheeled excavators.
Safety Features of Plant and Vehicles from AE Faulks
At AE Faulks Ltd our plant and vehicles are fitted with advanced safety features to help improve safety on site.  Our plant is fitted with:
Hi-visibility handrails and anti-slip steps to enable safe access and egress from the cabs.
Surround-view cameras minimising blind spots.
Twin-lock hydraulic quick-hitch on excavators.
Audible warning system when changing excavator buckets.
Travel alarm on excavators.
Our road-going vehicles are fitted with:
White noise and audible reversing alarms.
Class V and VI mirrors.
Under-run protection (where practicable).
Cyclist left turn warning system.
4-way camera system.
360-degree bird's eye view on road sweepers.
Reverse radar detection system on road sweepers.
Safety is incredibly important to us at AE Faulks which is demonstrated by our UKAS certification to OHSAS18001 (currently migrating to ISO45001) since 2011, FORS Silver accredited and a CITB member.  This ensures we provide and maintain safe vehicles, plant and equipment and guarantee that all our operators and drivers are trained and competent to do their tasks efficiently and safely.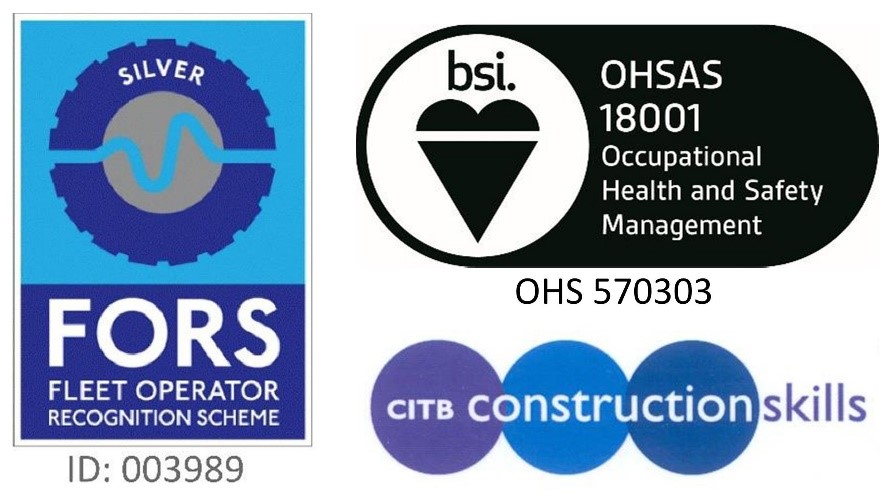 AE Faulks Ltd is a construction plant hire and earthworks company servicing the West Midlands and East Midlands regions. If you're looking for
plant hire in Birmingham
, 
Cambridgeshire
,
Nottingham
 or the
surrounding areas
, contact AE Faulks today.