At AE Faulks, we have a range of construction machinery available to hire, on an operated or self-drive basis, for a wide variety of applications. We can provide plant hire for your projects throughout the West Midlands and East Midlands including excavators, dozers, dump trucks, road sweepers, tipper lorries and more.
Today we're taking a closer look at wheeled site dumpers (3t to 9t capacity) focusing on how they work, site applications, their safe use and the range that is available for hire direct from AE Faulks Ltd.
How Wheeled Site Dumpers Work
A traditional site dumper is an open four-wheel drive vehicle, where the driver is seated above the engine at the rear with a load skip at the front.  Dumpers will therefore drive forwards into position (hence the terminology a 'forward tipping dumper') and using hydraulics, the skip tips to discharge (dump) the load.  Site dumper capacities range up to 10t.
There are three main types of dumper, general purpose skip, rotating (Swivel) skip and high tip.  Swivel skip dumpers can be extremely useful where there is insufficient manoeuvring room (confined area) and for discharging materials into a trench on the move for backfilling purposes.  High tip dumpers are very useful for tipping into skips or loading into hoppers.
Forward tipping dumpers have articulated steering controlled by hydraulic rams driven by an engine-driven pump making them very manoeuvrable.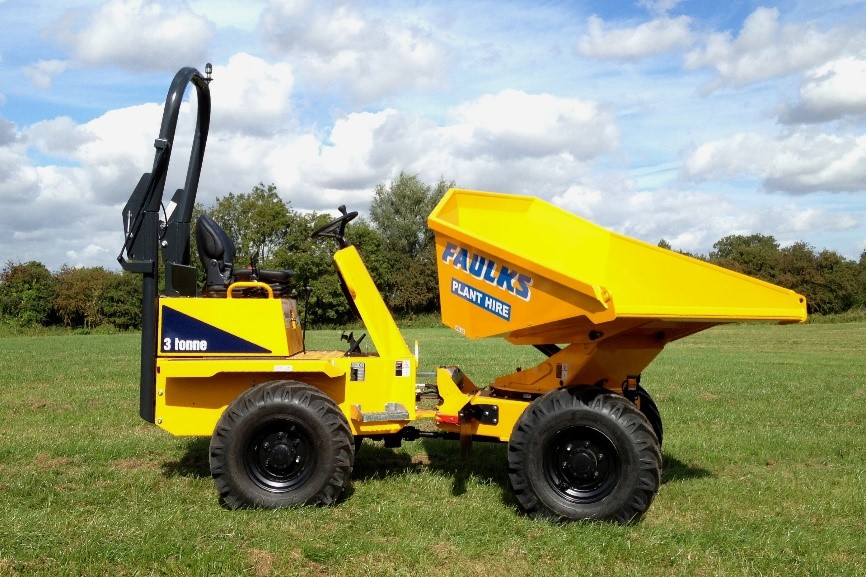 Site Dumper Applications
The compact nature of dumpers boosts their manoeuvrability dramatically and are well-suited for work in restricted spaces.  Their ability to work both on and off road and under adverse conditions make dumpers a perfect fit for site conditions present on many housing and infrastructure projects.  These versatile vehicles can transport a wide range of materials such as earth, sand, gravel and even wet concrete.
A dumper that is outfitted with a towing eye can also be used to tow trailers and bowsers around the site, further boosting their functionality.
Safe use of Site Dumpers
The first safety critical decision regarding operation of a site dumper is in the selection of the machine for the task.  Always ensure that it is suitable for the task being undertaken as dumpers can vary greatly in size, capacity and stability.
Once the machine selection is made then it is essential to ensure that the plant machinery being used is in safe working order.  Many accidents are caused due to defects with safety critical components.  Common defects which occur on site dumpers include; drivers seat becoming detached from body of machine; seat belts not working or missing; handbrakes and brakes becoming ineffective; tyres badly damaged/worn; flashing beacons and warning devices defective; tipping controls becoming defective; and inadequate Roll-Over Protection (ROPs) fitted.
Safe systems of work need to be in place to:
ensure that the driver is competent to operate the dumper safely and at an appropriate safe speed,
prevent a dumper overturning or overrunning an edge when tipping or operating near excavations and over embankments,
prevent overfilling or overloading of the skip,
transport only suitable loads such as soils and aggregates,
ensure pedestrians and vehicles are segregated where possible, and
ensure safe operation in poor weather conditions such as heavy rain, snow and ice.
Site Dumpers from AE Faulks
At AE Faulks, we offer three different sizes of site dumpers for hire. They vary from mid-range (3t) to large (9t), making them ideal for a wide variety of site applications.
Thwaites 3t Swivel Tip
Our smallest model is the Thwaites PS3000. This four-wheel-drive swivel skip dumper is better suited for use in confined areas compared to more traditional front tipping dumpers. It can safely carry loads of up to 3000kg powered by its 33bhp engine.  Ideally partnered with a 3.5t mini digger or 6t midi digger for productive working.  With hydraulic priority power steering and a three-point Kinglink giving centre articulation and oscillation for better stability, traction and safety on-site, the PS3000 is undoubtedly the perfect model for more confined working construction projects.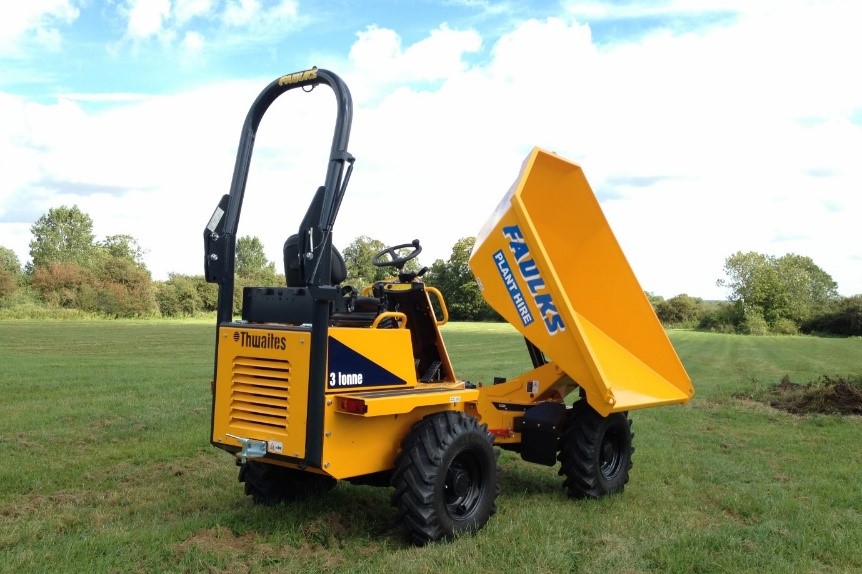 Thwaites 6t Swivel Tip
The Thwaites 6t Swivel Tip is our mid-range model yet can still be used in areas with a confined space.  It can safely carry up to 6000kg and has a powerful electronic controlled fuel-injected diesel engine. Hydraulically operated, its reinforced steel base plate gives it greater strength to minimise skip damage.  Powerswivel mounted on a ball bearing turntable capable of 180° rotation, all operated by a single dual-axis control lever for accurate and more precise dumping; this model is equipped to handle all manner of on-site applications and is ideally partnered with a 6t midi digger or 8t excavator.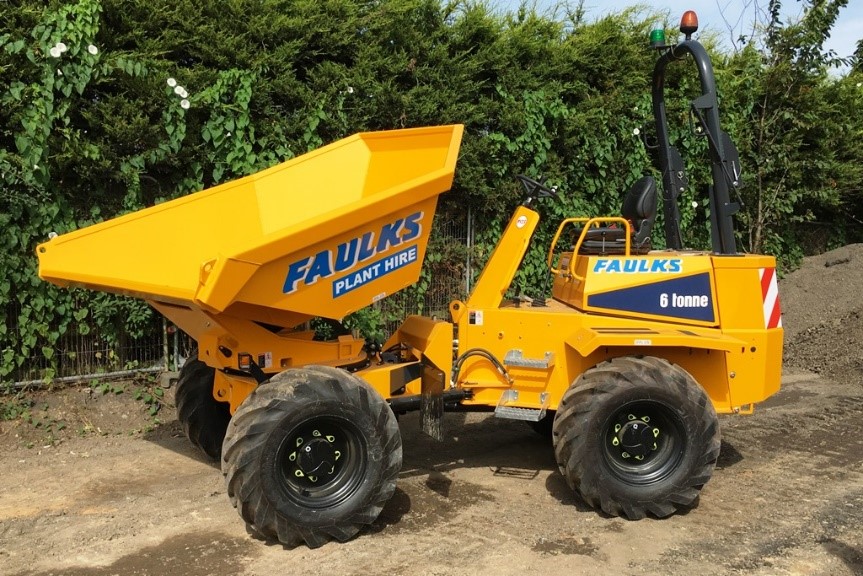 Thwaites 9t Front Tip
The largest of our available models is the Thwaites 9 tonne Front Tip dumper. This is the most efficient site dumper when it comes to earth moving ability. Its high floatation tyres ensure it continues to provide superior output even when conditions are rough.  It can safely hold up to 9000kg. Its adjustable suspension seat allows for superior comfort, and its single gear pump includes priority power steering.  It's ideal for challenging conditions on large construction sites when partnered with an 8t or 14t excavator.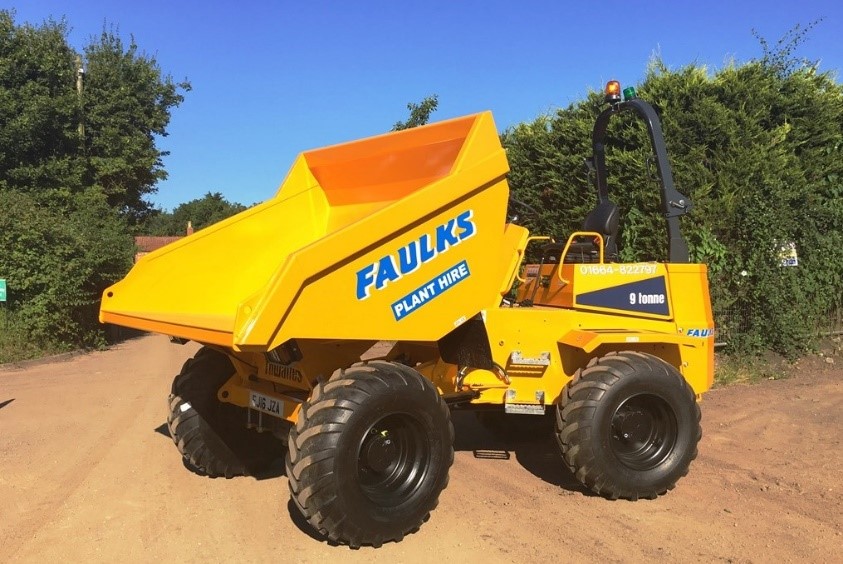 As well as dumpers, AE Faulks also provide a wide range of plant, including excavators, for hire across the Midlands. If you're looking for plant hire in Leicester or plant hire in Nottingham, contact AE Faulks today.