With rapid advancements in electric car technology over the past few years, their popularity has grown alongside those improvements. However, the development of all-electric construction plant machinery is an area unknown to most people.
With several significant manufacturers already developing and introducing high-quality electric machinery for use in construction, the construction industry is one of many investing in electric machines for numerous reasons, most notably to protect the environment.
New Environmental Standards
The UK is one of many countries that realise the importance of reducing our carbon footprint on a large scale, which will require significant changes within every area of business and industry, including construction plant machinery.
The UK government is putting the country at the forefront of a growing global green economy. The Net Zero Strategy for 2050 initiative contains newly fleshed-out climate policies from the UK Government. This 10 point plan will require the UK to bring all greenhouse gas emissions to zero by 2050. The overall goal is to decarbonise all sectors in the UK with a variety of emissions-reducing initiatives and carbon offset plans.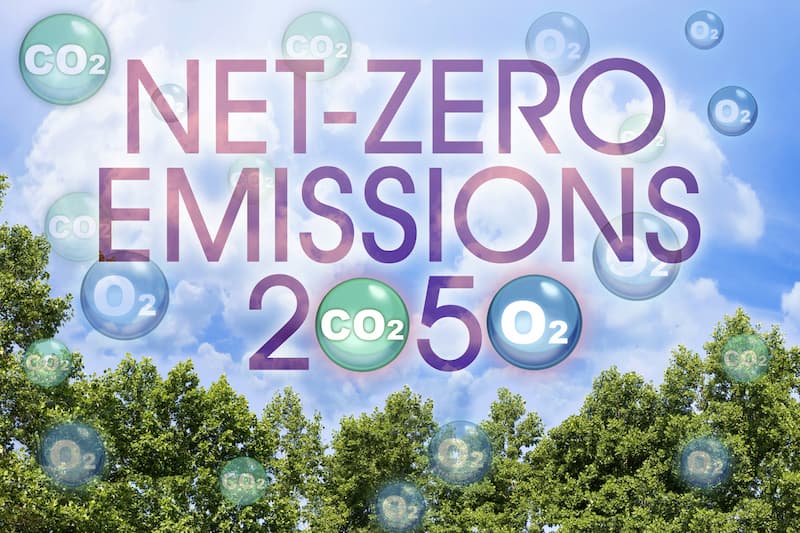 In April 2022, the UK Government ended the tax rebate for the construction industry's red diesel use, which the chancellor described as an end to the 'tax break for pollution that's hindered the development of cleaner alternatives. In addition, further regulations could require zero emissions on heavy construction equipment, which would pave the way for manufacturers to drop the production of diesel engines and go all-electric. Therefore, it is to be expected that we will see a significant move to electric power for heavy construction machinery in the near future.
Benefits of Electric Construction Equipment
The main benefits of choosing electric over diesel are zero exhaust emissions. The construction industry as a whole is one of many sectors going through a colossal shift toward introducing more eco-friendly equipment. In 2020 the worldwide construction industry accounted for 38% of CO2 emissions. With the strategy now in place to reduce this to Net Zero, the benefits of replacing diesel-powered machinery with electric become clear.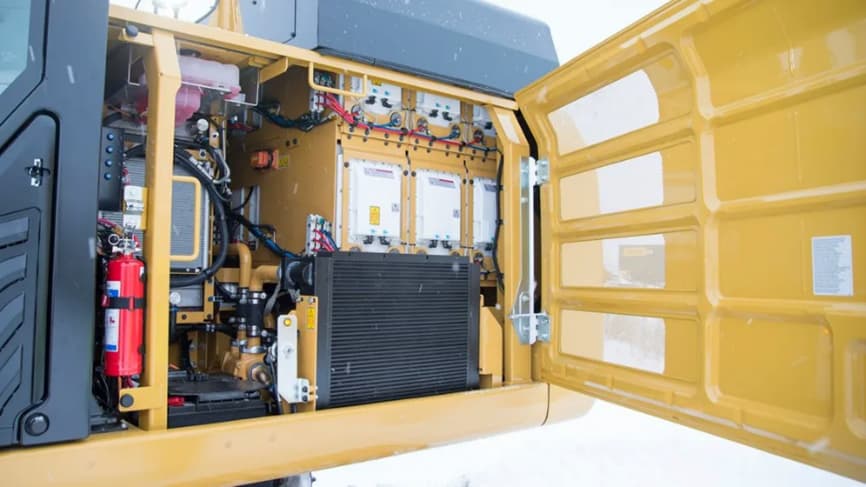 Beyond the environmental benefits, there are more immediate gains from choosing electric machinery. For example, noise pollution is always a problem for the construction industry. Whether it's a large-scale new development or smaller projects, construction sites struggle to limit the noise pollution from their work. This is especially true of any work taking place in a residential area. The standard solution has always been to limit the working hours to certain times of the day when it will have the least impact on the surrounding people, but this has the consequence of extending the time a job takes to complete. In addition, electric machinery is significantly quieter than its diesel-powered counterparts and has a positive health benefit by decreasing the risk of operators developing hearing loss.
Another added benefit of an all-electric drive chain is the machine's reliability and lower maintenance and fuel costs. In addition, electric motors have fewer moving parts, translating into fewer breakdowns and less downtime.
Developing Electric Plant Machinery
As previously mentioned, industry leading manufacturers are already developing new electric machines. In partnership with Pon Equipment, Caterpillar has converted a 28t excavator from diesel to electric (see image below). Caterpillar has also invested in Fisker to work on the development of solid-state batteries for use in construction. Hyundai CE has partnered with Cummins to develop heavy electrical equipment. At the same time, Volvo CE added the slogan "add Silence" to their business to announce their intentions to create more electric powered machines and have developed several types of electric compact excavators. Komatsu chose a different approach and developed hybrid machinery that still has the desired result of a zero-emissions machine.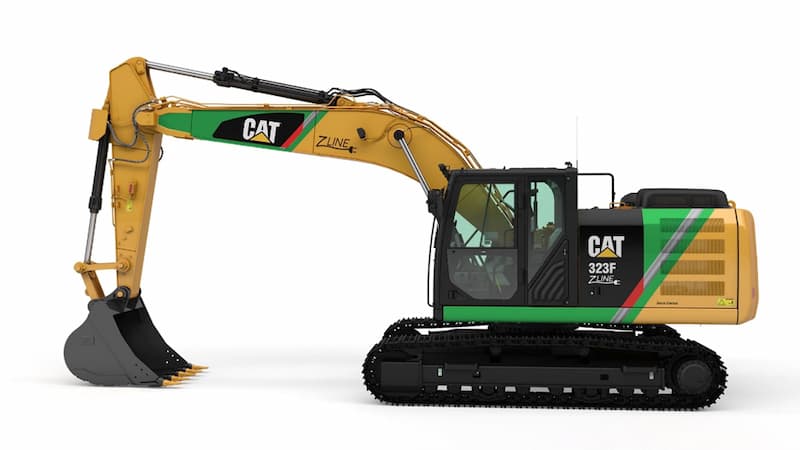 The Future of Electric Plant Machinery
Whilst most currently available all-electric powered machinery is focusing on compact models, we are likely to see the development of electrification of larger models over the next few years. However, battery storage, faster-charging cycles, output, and power are some of the obstacles that manufacturers will have to tackle.
One of the most exciting ideas being explored regarding electric machinery is automation. Creating construction equipment that can operate autonomously may seem like science fiction, but already there are vehicles in operation that 'self-drive' and use a variety of AI technology in conjunction with an array of sensors to move without control input (see image below of Komatsu's autonomous haulage truck featuring a completely cabless structure).   Replacing hydraulics with electric actuators (equipment that converts electrical energy into rotary torque) will also be used in the redesign of many types of equipment to deliver the efficiency, power and precision of their diesel counterparts.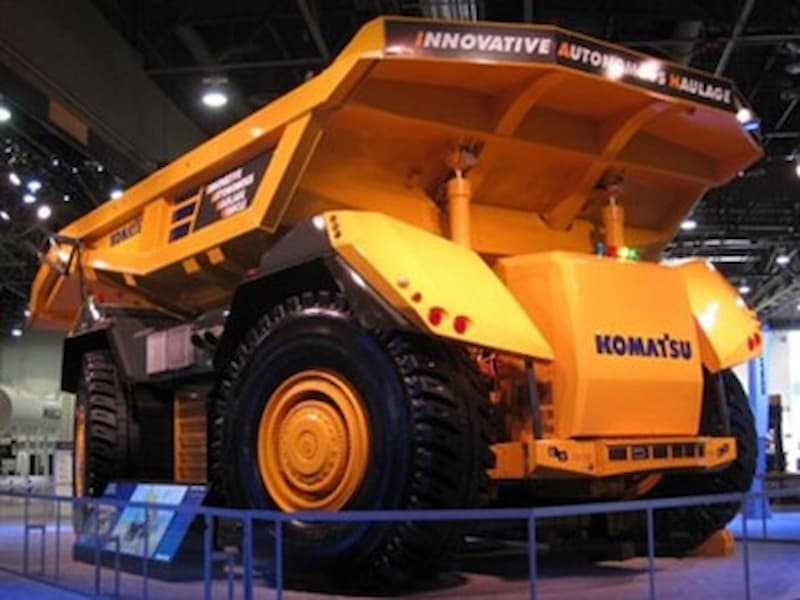 How AE Faulks Ltd Can Help
As a leading company in construction equipment hire throughout the Midlands region of England, we can confidently state that we provide excellent hire services from plant hire in Derbyshire to road sweeper hire in Lincolnshire, to name just two.
At AE Faulks Ltd, we pride ourselves on our forward-thinking, professional responsibility and our steps to comply with the latest legislation regarding construction equipment hire. You can learn more about our approach in our environmental policy statement.
If your business is considering hiring construction equipment for your next job, we recommend browsing our range of plant machinery for hire on our website. We can provide you with a wide choice, including tracked and wheeled excavators, dozers, dump trucks, etc.
Our construction equipment for hire is perfect for any site operations, large or small, but if you are unsure about your exact requirements we recommend getting in touch with us directly, and one of the experts on our team will happily answer any questions you may have.