Working from height refers to any place where someone could fall a distance liable to cause injury.  Working at height is one of the most common causes of fatalities and injuries in the construction industry. Falls are frequent from ladders and through fragile surfaces and can cause significant harm.
Safety procedures and control measures for working from height are crucial, not to mention a legal requirement. Here's what you need to know about working at height in construction.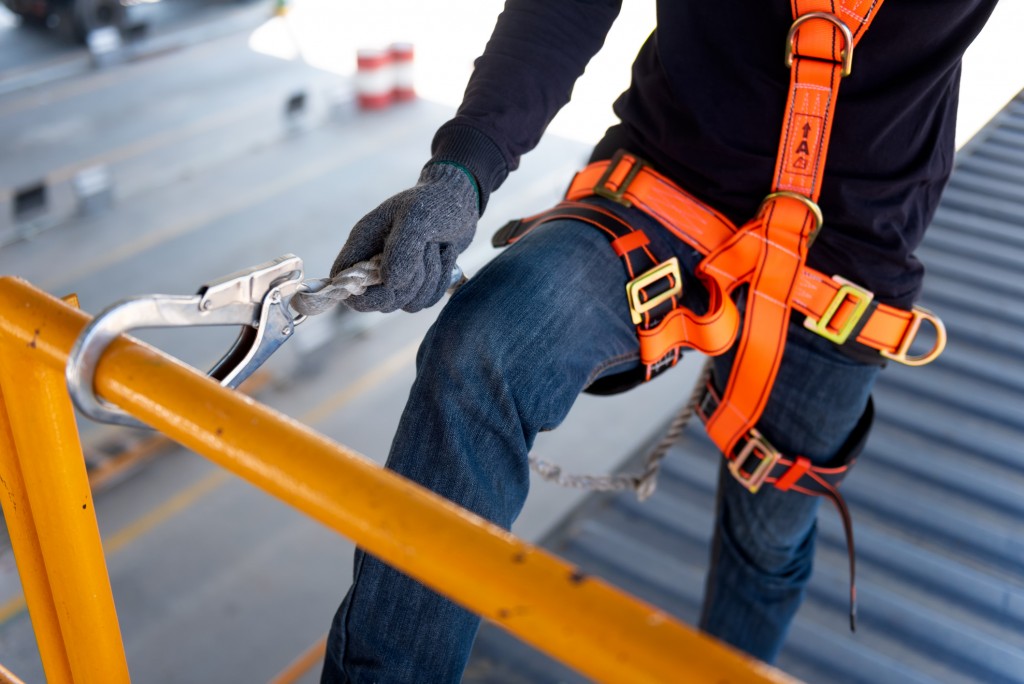 Control Measures
For any work involving working at height, it must be sufficiently planned, supervised, and carried out by competent people with the appropriate skills and experience needed to perform the job. The correct kind of safety equipment should also be used for those working at height.
Before working at height commences, you should run through these steps:
Avoid – don't work at height where reasonably possible.
Prevent – if working at height cannot be avoided, prevent falls with the right kind of equipment.
Minimise – reduce the distance and consequences of a fall with equipment where risk cannot be eliminated.
Ensure you have appropriate equipment and protection for all those at risk, collective protection such as guard rails, scissor lifts and scaffolding. Personal protection refers to equipment used by the individual working at height, such as safety harnesses.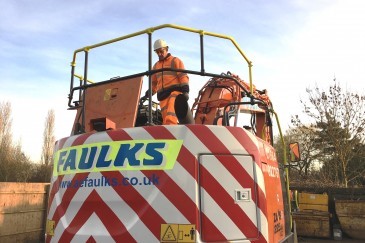 Before work can begin, ensure you carry out a full risk assessment to deciding on the necessary precautions. In line with the law, you need to ensure that any work at height is carried out in a safe manner.
Roof Work Hazards
Any work on a roof can be dangerous, even quick jobs taking just a few minutes. Workers doing roof work should be trained and sufficiently competent, instructed in the precautions required for this kind of work.
Roof work is high risk, as one in five deaths in construction work involves roof work, the leading cause being falling from roof edges or through fragile roofs. Many of these accidents can be avoided by having suitable equipment to use and adequate training, supervision and instruction.
Here's what to consider when undertaking roof work:
Workers need safe access to the roof. Typical methods include scaffolds, stair towers, mobile access equipment, ladders and roof hatches.
Falls from roof edges cause deaths every year, so minimise this risk with the proper safety procedures. For sloping roofs, scaffolding is required to prevent people and material falling from the edge. Edge protection should be fitted to the eaves. For flat roofs, a secure guardrail and toe board around the edge can be sufficient for preventing falls.
You should avoid working on fragile surfaces where possible, but if not possible to avoid, then control measures like safety nets, guard rails and fall arrest systems should be used. Falls through fragile surfaces account for 22% of fall from height injuries in construction, with fibre-cement roofs and rooflights being common causes. Adequate precautions are required for all work on fragile surfaces, even for short durations.
Working on Ladders
Before working with ladders, pre-use checks should be done beforehand by the user before it is used, or if anything changes, such as the ladder being dropped, so any defects can be caught before they cause accident.
Ladders should not be used if the stiles are bent or split, as this can cause collapse. If the ladder feet are missing or damaged, the ladder could slip and so should not be used. Check the rungs to ensure none are bent, missing or loose, as this can cause the ladder to become unstable. If any problems are presented, the ladder should not be used, and a suitable ladder should be sourced as a replacement.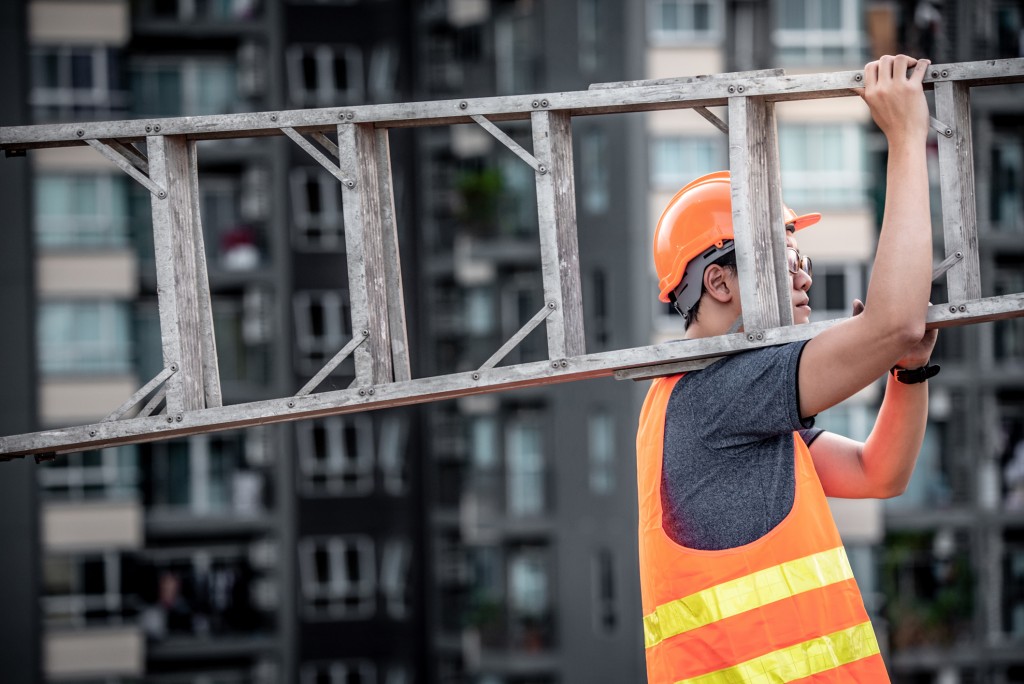 Scaffolding Hazards
A tower scaffold can prevent falls from height, but it must be suitable for the work and erected by people who have been trained to do so. Many people are injured each year by falling from towers or if a tower overturns. Incidents occur when the erection or dismantling is not done safely or if the scaffold is defected or misused.
A scaffolding supplier has a duty to ensure it is erected safely, and they should pass on any information to the person supervising the work. The tower needs to be resting firm, level on the ground without any bricks or building blocks to take the weight of any of the tower.
All towers should be inspected following assembly and at regular intervals by a competent person. Work should be immediately stopped if it is not safe to continue and any faults put right. When working on scaffolding, the workers should never do any of the following:
Use it in strong winds.
Use it as support for ladders or other equipment.
Use it with broken or missing parts.
Use it with incompatible components.
Working at Height Procedure
When working from height, always follow the standard procedure: avoid, prevent, minimise. Once you've established that working at height is required, make sure you take account of the following:
Weather conditions – assess if they could compromise worker safety.
Safety check – ensure where the work is being carried out is checked every time before use.
Stop objects from falling – or if this cannot be prevented, put in measures to ensure no one can be injured, such as mesh or exclusion zones.
Store materials safely.
Plan for emergencies – set procedures for evacuation and ensure employees know the processes to follow.
Do's of Working at Height
Work from the ground as much as possible.
Ensure workers can get safely to and from height.
Ensure all equipment is suitable for the job and regularly checked.
Take precautions on fragile surfaces.
Don'ts of Working at Height
Overload or overreach ladders.
Rest a ladder against a weak surface.
Use a ladder for strenuous tasks.
Let someone who is not competent work at height.
There is no such thing as too safe when working at height.
At AE Faulks, we take working at height safety very seriously, which is why all our plant operations are risk assessed and suitable control measures are put in place, such as hi-visibility handrails and anti-slip steps for safe access and egress from the cabs and for machine maintenance.
If you need plant hire in Derby, Leicester, Lincolnshire, Northamptonshire or other parts of the West and East Midlands, contact us today. We offer an extensive range including tracked excavators and mini digger hire in Nottingham.