With doom and gloom everywhere in the news about the current state of the planet, there has never been a more crucial time to invest in renewable energy and clean technology. The construction industry has a reputation for not being especially environmentally friendly, but sectors like plant hire companies are seeking innovation though clean technology to help the construction industry reduce its carbon footprint.
How Bad is the Environmental Problem?
The UN has warned that we have just twelve years to limit global warming if we want to prevent the growing risk of extreme natural disasters. Campaigners have been demanding that the UK strives for a target of net zero carbon emissions by 2025, but the Government only went as far as to pass the law for net zero carbon emissions by 2050.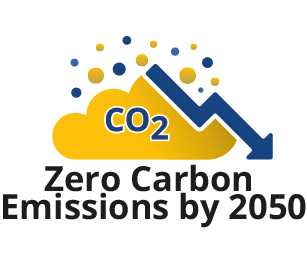 The construction industry has a large part to play in the UK's total carbon footprint, with the UK Green Building Council calculating that embodied carbon emissions resulting from construction and demolishing buildings accounts for between 20% to 60% of a building's environmental impact.
It seems that the days of fuel-hungry plant in the construction industry could be coming to an end. Could we eventually see the rise of clean, electric vehicles and plant across construction sites in the UK?
The Rise of Cleaner Plant
Whilst electric vehicles are continually being improved; there have been visible signs in developing cleaner engines. Construction equipment manufacturer, Case, recently unveiled a prototype for what they're calling the world's first wheel loader, to run entirely on alternative and renewable fuel. It is powered by biomethane produced from waste products such as waste food, wood chippings and animal waste.
This year, equipment that meets the higher stage 5 European emissions standards have become available, including those with selective catalyst reduction – this reduces nitrogen dioxide emissions as much as 90-95%. For equipment on construction sites that require lower power such as tower lighting and small generators, fuel cell technology is being used, which is powered by elements such as hydrogen.
Electric vehicles are also on the rise. Small electric plant has been appearing on sites for a while with the likes of JCB and their electric excavators but electrically powered larger equipment is proving more challenging to achieve. Skanska and Volvo tried out the world's first emission-free quarry in Sweden, where every stage of the process has been electrified. They claim tests have shown a 98% reduction in carbon emissions, a 70% reduction in energy costs and a 40% reduction in operator costs. The equipment trialled includes battery electric load carriers, a 70-tonne dual-powered cable-connected excavator and an electric hybrid wheel loader. The machines are currently prototypes and not commercially available yet.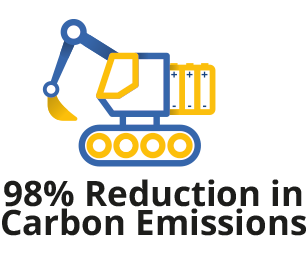 Benefits of Clean Technology in Plant Hire 
There are many benefits to be had from reducing the energy demand and increasing the use of renewable energy, and not just the positive impact on the state of the planet.
Lower energy costs – construction industry companies can cut costs on energy prices by switching to more sustainable forms of energy.
Increase revenue for businesses – a reduction in energy costs means that money can be spent elsewhere within the company, benefitting the bottom line.
Reduced health costs – cleaner technology allows for better air quality and overall health, which means workers will be less inclined to take time off work due to ill health, helping to prevent a business lose money through lost labour.
Direct economic benefits – companies that provide the clean technology equipment will see an increase in demand, increases their revenues and their capacity to hire more workers.
Investing in clean technology within the construction industry is certain to be on the rise over the next few years as the UK Government strives to meet its net zero carbon emissions goal. It will most likely be a slow process as technology continues to improve and gets rolled out across the country, and many companies may not have the financial capability to replacing their current plant with cleaner alternatives.
At AE Faulks, we're committed to minimising our potential impact on the environment. We operate in compliance with all relevant environmental legislation and strive to use pollution prevention and environmental best practices in everything we do. We offer plant hire in many locations throughout the heart of the Midlands, such as plant hire in Birmingham, Nottingham, and Derby so if you're looking for plant hire, please do not hesitate to contact us today.